My very first knitting project is finished! And typically for me, it is not the first project I started. Nope, not the striped scarf is finished, but the ribbelscarf for my brother is.
The picture has been taken at 5 o'clock on Tuesday morning, so it's not the best quality. I just really wanted to deliver the shawl that day, due to the bitter cold that arrived in the country this week.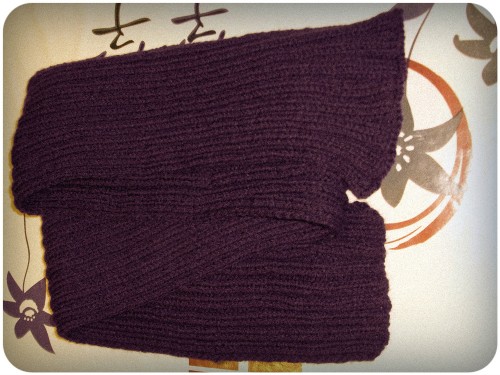 The shawl looks okay, but isn't perfect.
There are many mistakes, because I knitted the wrong stitch. Apparently I lost focus a lot during rows, so that I suddenly started knitting the wrong pattern 0_0
Also the bind off isn't all that pretty. I had cast on using an 8mm needle, so I cast off using an 8mm crochet hook. But apparently those two don't match, as the bind off edge turned out to be a little to wide (see the top edge on the photo)
But, all in all I created a wearable shawl, which doesn't look all too bad for a first knitting project

PS: I'll be translating my I'm-learning-to-knit-posts soon!